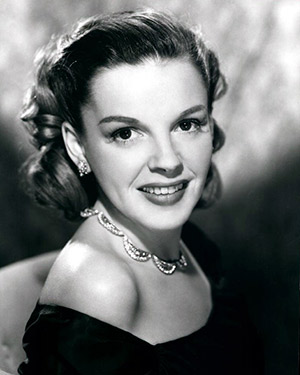 Judy Garland
Judy Garland (born Frances Ethel Gumm, June 10, 1922 – June 22, 1969) was an American singer, actress. She attained international stardom that continued throughout a career spanning more than 40 years as an actress in musical and dramatic roles, as a recording artist, and on concert stages. Garland was nominated for the Academy Award for Best Actress for her role in the remake of A Star Is Born and for Best Supporting Actress for her performance in the 1961 film Judgment at Nuremberg. She remains the youngest recipient (at 39 years of age) of the Cecil B. DeMille Award for lifetime achievement in the motion picture industry. She also won an Grammy, a special Tony award and a Golden Globe.
After appearing in vaudeville with her two older sisters, Garland was signed to Metro-Goldwyn-Mayer as a teenager. There, she made more than two dozen films, including nine with Mickey Rooney, and 1939's The Wizard of Oz. After 15 years, she was released from the studio and then gained new success through record-breaking concert appearances all over the world, including a return to acting, beginning with critically acclaimed performances.
In 1997, Garland was posthumously awarded a Grammy Lifetime Achievement Award. Several of her recordings have been inducted into the Grammy Hall of Fame. In 1999, the American Film Institute placed her among the ten greatest female stars of classic American cinema. She remains a true Icon and has inspired many singers and actors and has been the subject of many biopics.
Please wait, we are currently generating print version... You can request it directly
here
if something doesn't work.